This is where you set out the objectives of your project and the message you want to get across. You'll also define your target audience and how your video will be delivered to them. You can also provide a steer on the style of animation, voiceover and music if you have anything in mind. Other logistical points that are good to know at this stage are deadlines, accessibility considerations, budget requirements and any technical specifications you may have.
In return this is my opportunity to understand your brand, product or service, the marketplace you operate in and the story you want to tell, so that together we can make you stand out from the competition.
All this information is condensed into a project briefing document, which outlines 'what' this project is going to be. This is our first milestone. Once everyone is happy, we can move on to the next stage. 
Keep your messaging simple and don't overload multiple messages into one video - between 60 - 90 seconds is the ideal length. If you really do have a lot to say, then consider splitting your messaging into separate videos and making a series. Your viewers are much more likely to watch three 60-second videos than make it all way through one 3-minute video.
The best place to start with a script is the 'narrative' - what you want to say - and then work this into a 'narration' or voiceover. The narrative is best written by the client and then myself or a professional scriptwriter will work this into a script using our industry experience. However, this process should be seen as a collaboration.
The final script is the second milestone. Once this is signed off we can move on to the next stage.
Avoid jargon and abbreviations unless you're absolutely sure your audience will understand them. Read your script aloud to appraise how it sounds when spoken. Time yourself reading the script then add on 20% - this will give you a more realistic length for your animation, allowing for pauses and animations to play out.  And don't forget to add a call to action at the end.
​​​​​​​​​​​​​​
Working with your brand guidelines, it's now time for the visual language of your project to begin to take shape. Here I can provide you with style frames, initial character designs and a mood board depending on your budget. These won't necessarily be the finished artwork but more of a scamp of where we're travelling to.
This is where the script is laid out with visuals along with direction notes. The visual detail of this stage very much depends on time and budget, but the key objective here is to ensure that the script and the visuals make sense with each other.
This is milestone number three. Once this is signed off, this is what is going to be delivered. Any significant changes after this point may incur additional costs so it's essential that all stakeholders have input at this stage.  
An animatic is a previsualisation of your animation - a rough version if you will. I take the visuals from the storyboard and lay them out in an edit along with a guide voiceover, music and some key sound effects.
In all actuality, your animatic might look like a dog's dinner, but the purpose of an animatic is to ensure that the pacing, flow and storytelling are working. 
Unlike film, this stage is where the major editing occurs. If something isn't working this is the time to address it, as it's less time consuming to fix it at this rough stage than in post production.
This is milestone number four. Once we're all happy then we can head into production proper.
If your timeline / budget is tight then you can combine the storyboard and animatic stage into a 'boardomatic', which is an animatic that retains some of the annotation of a storyboard.
This is when assets are created and the animation is done using the storyboard and animatic as a guide.
Audio is a very important part of a successful animation but can often be the part that people forget to allocate sufficient budget to.
A professional voiceover is a must - they're professionals for a reason. I have contacts with voiceover artists and agencies and will be able to source you with shortlist of possible candidates. Voiceover artists more than often have the equipment and ability to record themselves, and you're usually able to supervise a recording session over Skype.
Music broadly falls into three categories - stock / library music, licensed music or custom music.
There are many online stock music libraries out there which curate 1,000s of pieces of royalty-free music specifically written for the task. This is usually the cheapest and quickest way to source music. Some libraries offer up tracks with 'loop sets' and shortened versions so that a fair amount of wrangling can be done on them to get them to work in the edit. The amount you pay depends on where (e.g. online) and for how long you want to use the track.
Licensed music is where you approach a recording artist and request to use one of their songs. This can be hugely expensive depending on the calibre of the artist and it's unlikely they will allow their music to be edited in any significant way or forego royalties. There are now sites that represent 'smaller' artists, so if you want something a bit more 'real' than a library track it's still possible to get something decent that won't bust your budget.
Custom music is where you ask a composer to create a bespoke track for you. The benefit of this is that you will have a track unique to you that you own outright. The composer can write the music to the edit too, or there can be dialogue between the composer / animator so that the music really fits and hits all the rights notes at the right time. Sometimes, this approach can be cost-effective if your animation needs multiple music licensing rights. Rights and royalties are negotiated with the composer.
Sound effects can really help sell an animation and emphasise what is going on screen. Subtlety is the key here, but you'd really miss them if they weren't there.
The first draft is complete and it's time for you to review. I prefer to use online video review portals such as Frame.io or Vimeo, where you can leave time-stamped feedback and even annotate the screen so that there's no ambivalence.
Once your feedback is in, I'll make the necessary amends and resubmit for final approval. The number of rounds of amends depends on your budget.
Keep feedback concise and make sure it's time-stamped.
​​​​​​​
Consolidate all your stakeholders' feedback so that I get it all in one go. Getting it in dribs and drabs can sometimes lead to conflicting feedback when stakeholders don't agree.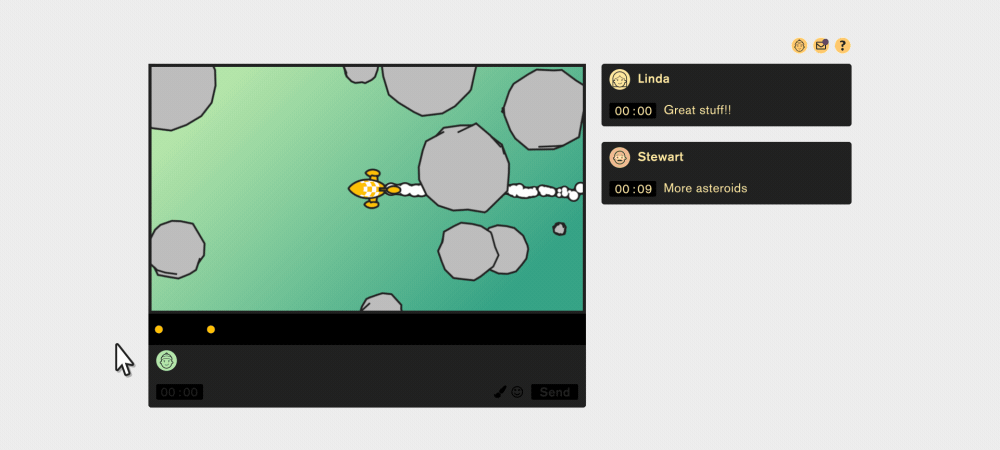 Unless you asked from something specific, I usually deliver your final video as a Quicktime (ProRes) and an MP4 (h264) which is perfect for web.
All that we need do now is raise a glass to a successful project: here's to the next one!